Andy Lindquist
Since the age of 13, he has been making and performing music. It all began with his first band, "Stone Soup" in Grand Forks, North Dakota. Since that humble beginning, he has written and produced thousands of songs (no, really). 
The Roots
He was born and raised in Grand Forks, North Dakota, to a lower-middle class American family. His father was a WWII Navy Hero and Pearl Harbor survivor. His mother raised 7 children in their tiny little yellow house at 216 Polk Street. At age 9, he started his musical life playing the trumpet - mostly due to his love for Louis Armstrong and Herb Albert. When he purchased his first guitar at 13, he knew this was what he would do his entire life. 
The Challenges 
Andy is not without his hardships. Some 25 years ago, he was hospitalized for what doctors speculated was the flesh-eating bacteria. With the prognosis being his unlikely recovery, he married his wife, April, in the hospital. The diagnosis was grim and daunting to say the least.  Andy went on to suffer a series of three very serious strokes. Each time losing his ability to play his guitar and his other instruments. Andy says "Those were dark days indeed. I had to do a lot of soul searching to figure out who I was beyond Andy, the performer and the writer. I literally had to reteach myself how to play."
He not only recovered, he triumphed. Most of his over 80 records have been written and recorded since his last stroke in 2004. Andy says "When I was trying to bring my brain back to be on speaking terms with my hands, I gained more abilities as I slowly recovered. I am living proof that music can heal all wounds."
Since the Behcet's Disease is associated with chronic pain, Lindquist chooses to use making music as a holistic answer to killing pain. "I've found that when I am in the middle of creating, writing, playing and singing, the last thing I am thinking about is pain. I float along with music, and it helps me to cope with this endless pain cycle"
The Music
Andy moved to Minneapolis in 1983. He played with many bands in the Twin Cities from "Night Train" to "Fat City" to "Big Logic". In 2000, Andy moved to Seattle to take a position as one of "Heart's" guitar players.  Andy played with many Seattle acts in his 2 years of residency in the Emerald city. After being hired by Heart, Andy suffered another devastating stroke.
"I nearly lost my mind during that time! I had worked so hard at my craft, and to get such and opportunity to play with an amazing act, then to have it taken away by fates fickle hand. nearly destroyed me completely."
Andy soon moved back to Minneapolis. Where he began his steep incline of writing and producing more material than ever before.  "Post 2004 was a very prolific jump for me personally. After my 2004 stroke, my left side was not coming back. I was worried, so I went out and bought myself a Casio keyboard to teach myself how to play piano. I sat down with the song Penny Lane, by the Beatles. I was able to use my right hand and get one finger out on my left hand to play the roving bass line. I must have played that song 10,000 times till I got it right. But I never gave up! I just kept going. And today I write a majority of my songs on the piano! Not bad for a guy who taught himself how to play at the age of 44."
Andy is now on the cusp of his 88th solo release, "Surface Scratches", which is folk rock album. A bit different from the Blues he is well known for but he continues to love writing all genres of music. His next Blues album will be released in November 2022. 
"I used to drive A&R guys nuts when I had my record development deals in both the 80's and the 90's. They used to try and get me to write in very specific parameters - basically writing the same song over and over till I reached 15 tracks! I wasn't built that way. I tend to get very bored when faced with one type of writing style. I soon realized I was never meant for the major labels."
With development deals in the 80s and 90s with Crysallis Records and BBC Records that fell through, Andy had failed stints on the roster lists of these record companies. "I think God was always trying to tell me something. Whether it was losing my gig with Heart to failing with my development deals, I guess I wasn't meant to go the traditional way in the music industry. As everything else in my life, I have to go the hard way, and the uphill way, rather than the fast track."
Andy was the first solo male singer to ever appear on the television show Star Search. It was The Voice, or the American Idol, of its day. "I remember being gobsmacked at the fact that I was staying at the infamous, Hyatt, on Sunset Boulevard in Hollywood! It was the place where led Zeppelin and The Who threw lavish parties! And I was there! At the time of the taping, Little Richard had the entire penthouse level of the Hyatt to himself while he was filming "Down and out in Beverly Hills" 
I remember my first day in Hollywood, at the age of 22. I walked myself about 20 yards out the door and some dude jumped out from a car and asked me for my autograph. He thought I was Bono from U2! I panicked and ran back into the Hyatt with him chasing me screaming... 'Bono wait, wait, I only want an autograph!' To this day, there is a guy out there who thinks they met Bono! But not so much. But still super funny to think about.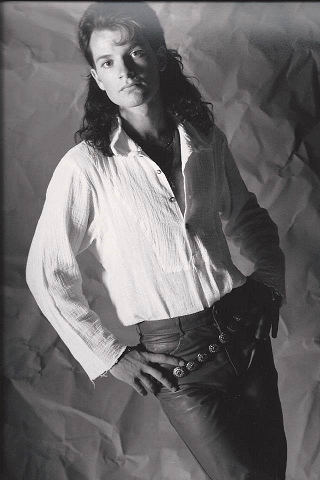 "I've had the opportunity to play with some of the best players in the industry in my years. From Heart members to Bill Lordan of Robin Trower and Sly and the Family Stone, to members of the Steve Miller Band, Olivia Newton John, to writing with the famed Wren Song writer, Geoff Harrington." 
"Through all of my trials of find myself still learning and still growing as a singer, a multi instrumentalist and a Producer. When I run out of ideas and out of steam, I will quit! No.....not really, I'll have to go deaf or have another stroke that I won't be able to come back from, I guess. But I pray to the Lord, he keeps me going strong!"
The Future
Despite Andy's health challenges, he continues to perform and release new music. He usually writes alone and plays all instruments for his songs - inspired by his idols Paul McCartney, Pete Townshend and Todd Rundgren.
"The joy of playing a drum track never gets old for me. Never! It's exhilarating! And it keeps me fresh. I try and learn a new instrument every year. This year it was Uke and back to shredding on my trumpet again - there may be a reason I didn't play it as my key instrument."
Andy's blues album "Blues Soul Groove" topped the IBBA charts in 2021 followed by great results for "Stand Abide Endure". There seems to be no end in sight for Andy's music. " I don't know when or where my last record will fall, but I don't worry about it too much at all. I guess if the Lord wants me to come home, I will do as He pleases. Until then, I am going to make records like crazy! I promised Jesus if he gave me back my abilities I'd never stop, so far I've kept up my promise!"
Andy is also a guitar Luthier. Classically trained at the famed Red Wing Luthier College in Red Wing Minnesota. He also does a good share of movie scores and commercial work as well. "Chances are you've heard my commercials and never even realized it" Andy first attended The Minneapolis College of Art and Design when he arrived to Minneapolis in 1983. "I guess I'm a Art School drop out like tons of my musical heroes. And I will wear that badge with honor. Although I always stay current with my artwork, whether its painting, drawing or etching. I need to be creative at all times!"